Gamma radiation monitoring
The M9.0 earthquake and subsequent tsunami that struck the east coast of Japan on the 11th Match 2011, triggered a series of events that resulted in discharge of radioactive material from Fukushima 1 nuclear power plant into the environment. Whilst a concerted effort has be made to monitor the distribution of radioactive material in the environment, survey of radionuclides on the seafloor remains one of the most challenging areas, since the strong attenuation of radiation in water requires the instruments used for measurement to be in contact with the seafloor.
In our group, we have developed a ship towed gamma radiation measurement system, called the Radiometric Environment Survey and Quantification hose, or RESQ hose, that maintains contact with the seafloor to perform continuous measurements of radioactivity on the seafloor over long distances. The system has been deployed to monitor the eastern coast of Japan, with efforts focused on regions affected by the nuclear accident. A smaller version of the device, RESQ hose mini, has been developed and deployed in rivers and lakes. We are also currently developing a gamma sensor equiped ROV which has been deployed to perform detailed surveys of anomalies found using teh RESQ hose.
To date, we have surveyed the distribution of radionulides along transects totalling more that 1600km of seafloor. The data is currently being processed in preparation for publication. Click here for a pdf of slides that were presented at a symposium organised by the JAEA in December 2013.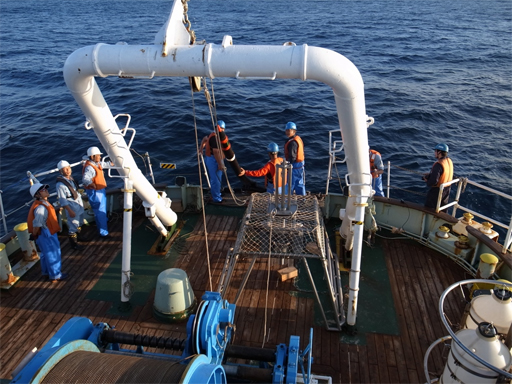 Deployment of towed gamma radiation measurement system off Fukushima
Expeditions
2015
RESQ15-03 Towed survey off Fukushima, Mitsui , February, 2015

RESQ15-02 ROV survey off Fukushima, Mitsui, February, 2015

RESQ15-01 Towed survey off Fukushima, Sanyo Techno Marine, February, 2015
2014
RESQ14-07 Towed survey off Abukuma river outlet, Sanyo Techno Marine, December, 2014

RESQ14-06 Towed survey off Fukushima, Fuyokaiyo Kaihatu, November. 2014

RESQ14-05 Towed survey off Abukuma river outlet, Sanyo Techno Marine, Sept. 2014

RESQ14-04 Towed survey off Abukuma river outlet, Sanyo Techno Marine, Aug. 2014

RESQ14-03 ROV monitoring of Anomalies using the fishing boat Hasekaze (20 tonnes), Chief Scientist: Blair Thornton, Feb. 2014

RESQ14-02 Towed survey off Fukushima, Sanyo Techno Marine, Feb. 2014

RESQ14-01 Towed survey off Abukuma river outlet, Sanyo Techno Marine, Jan. 2014
2013
RESQ13-09 Towed survey off Fukushima, Fuyokaiyo Kaihatu, Dec. 2013

RESQ13-08 Towed survey off Niida river outlet, Sanyo Techno Marine, December 2013~Feb. 2014

RESQ13-07 ROV monitoring of Anomalies using the fishing boat Hasekaze (20 tonnes), Chief Scientist: Blair Thornton, December 2013

RESQ13-06 Towed survey off Abukuma river outlet using the fishing boat Watarimaru (10 tonnes), Sanyo Techno Marine, October 2013

RESQ13-05 Towed survey off Abukuma river outlet using the fishing boat Watarimaru (10 tonnes), Chief Scientist: Blair Thornton, July 2013

RESQ13-04 Towed survey of Izunuma in Miyagi using a 100 kg motor boat, Chief Scientist: Blair Thornton, May 2013

RESQ13-03 Towed survey of Abukuma river outlet using a Fishing boat (10 tonnes), Chief Scientist: Yusuke Yano, March. 2013

RESQ13-02 Towed survey off Miyagi using the R/V No.7 Kaiyomaru, Chief Scientist: Yusuke Yano, Feb. 2013

RESQ13-01 Towed survey off Fukushima using the Fishing boat Shizumaru (20tonnes), Chief Scientist: Blair Thornton, Feb. 2013
≤2012
SY12-12Leg1 Towed survey off Fukushima using the R/V Soyomaru (National research institute of Fisheries Science), Chief Scientist: Daisuke Abe, Dec. 2012

RESQ12-02Leg2 Towed survey off Fukushima using the R/V Kotakamaru (Fukushima Prefectural Fisheries Experimental Station), Chief Scientist: Blair Thornton, Nov. 2012

RESQ12-02Leg1 Towed survey off Fukushima using the R/V Kotakamaru (Fukushima Prefectural Fisheries Experimental Station), Chief Scientist: Blair Thornton, Nov. 2012

RESQ12-01 Towed survey off Fukushima using the R/V No. 8 Kaiyomaru (Marine Ecology Research Institute), Chief Scientist: Kusakabe Masashi, Aug. 2012

YK12-05 Deployment of GB-2 in hydrothermally active areas using Shinkai 6500 and the R/V Yokosuka (Japan Agency for Marine Science and Technology), Chief Scientist: Tatsuhiro Fukuba, May 2012

7MFV-6 Deployment of GB-1 for pointwise in situ measurement of radionuclides off Fukushima using the R/V No.7 Kaiyomaru (Marine Ecology Research Institute), Chief Scientist: Jun Misonoo, July 2011