3D visual reconstructions
3D visual mapping seafloor has found applications ranging from environment monitoring to underwater archeology. However, the attenuation of light is significantly more pronounced in water than in air or in space, and so in order to obtain underwater images in color, it is necessary to be within 2~3m of the seafloor. In addition to the high risk of collision when operating underwater vehicles at such low altitudes, the limited area of the seafloor covered in each image means large area surveys require a huge investment of time.
Our group aims to increase the efficiency of mapping large areas of the seafloor by developing technology to take color images at ranges of between 8~10m so that each image can cover a larger area, and develop algorithms to automatically process the data obtained. To date, we have deployed the system to map marine habitats and hydrothermally active areas.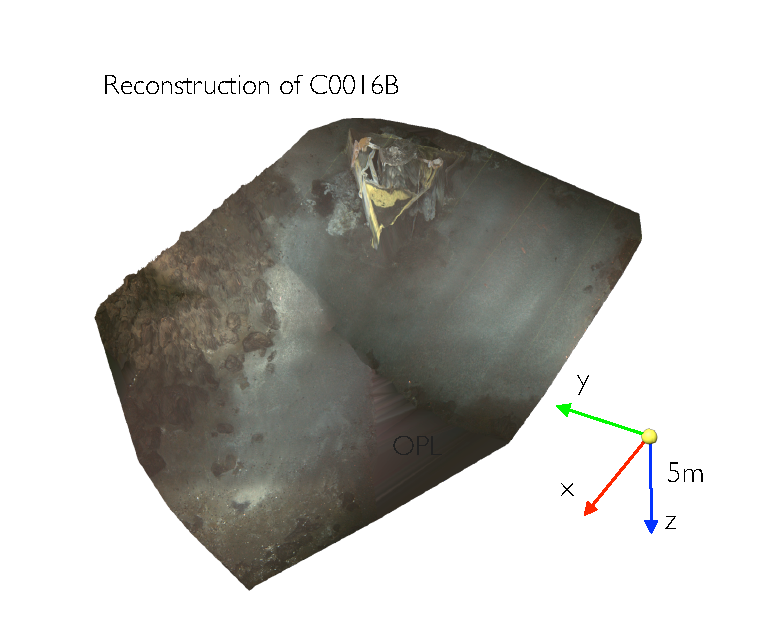 An example of a small section of 3d reconstruction data. The area shown is 21 x 14m and was measured in 152s during a 1hour mapping mission.
Expeditions
2014
NT14-11 Leg 2 Long range mapping of seafloor debris in the Tohoku region together with the Australian Centre for Field robotics AUV mapping group (ROV HyperDolphin and the R/V Natsushima), Chief Scientist: Yasuo Furushima, July 2014
KY14-01 Long range mapping of the Iheya North Field together with the Australian Centre for Field robotics AUV mapping group (ROV HyperDolphin and the R/V Kaiyo), Chief Scientist: Takai Ken, January 2014
2013
NT13-21 Long range mapping off Fukushima and Miyagi using the ROV HyperDolphin and the R/V Natushima, Chief Scientist: Yoshihiro Fujiwara, October 2013
≤2012
NT12-27 Long range mapping of N. Iheya vent area using the ROV HyperDolphin and the R/V Natushima, Chief Scientist: Shinsuke Kawaguchi, October 2012

NT12-15 Long range mapping of a Whale fall in Sagami bay using the ROV HyperDolphin and the R/V Natushima, Chief Scientist: Yoshihiro Fujiwara, June 2012

NT12-07 Field test of long range seaXerocks at a Kagoshima bay vent site using the ROV HyperDolphin and the R/V Natushima, Chief Scientist: Blair Thornton, March 2012